Your Weekly Newsletter from The Turn
Hello Turn Members,
 What a great start to the summer! We had our successes and challenges and learned from both. We hope you had an opportunity to come out to the golf course and either participate in program, play 9 holes or attend The Turn Care Package Day. We know the new guidelines have prevented full activity, but we are trying our best to keep everyone safe and healthy. 
Believe it or not, the next best day to Christmas is next Saturday! If you haven't signed up for the Join The Turn Outing and want to play, please call my cell phone, 216-288-7793 ASAP! This year will be different but still fun! We will have raffle baskets, contests, and lunch from Chick Fil A!! Instead of morning and afternoon shotgun we will assign tee times. You will receive a call and/or email from the Turn with your tee time and what time you should arrive at the course. Unfortunately, no dunk tank, but again we will stay safe and healthy. 
With that being said, 2 important things we need to consider during the Join The Turn Outing is competition and the outdoor temperature. The lesson plans next week will focus on Competition Socials on the golf side and Heat Related Illness on the fitness side. 
It's Yoga time! We are offering outdoor yoga classes on Thursday mornings again. Standing yoga is still at 9:00 and chair yoga at 10:00. We are limited to 4 spots per session and it is a first come first serve basis so to sign up you need to email Gina, her email address is gbabinec@jointheturn.org please contact her by midnight on Sunday for the following Thursday. Please call me if you have any questions. 
Last but not least! Now that programming is outside only we are at the mercy of Mother Nature and she doesn't always cooperate. If program is cancelled due to weather this includes rain, snow, and extreme heat you will receive a phone call from 440-686-1074. Please do not opt out or ignore this call. It might help to name this number The Turn so you know it isn't a telemarketer.
Your Program Coordinator – Shellie 
Gina Babinec PT
Fitness Coordinator
Staying Cool
 July is proving to be a hot one, so it is time to get serious about heat exhaustion which can lead to heat stroke. Trevor has had to make some tough decisions whether to cancel programming. One objective tool we use is the heat index, which is based on the actual temperature and humidity. It is the "what it feels like" temperature. Add to that, the heat radiating from the cement and practice green, lack of shade, and poor air circulation. Our members are also at a higher risk to develop heat illnesses due to certain medications, diagnoses, and age.
The following are some of the signs of heat exhaustion and heat stroke, as well as treatments:
Heat Exhaustion 
– Heavy sweating 
– Weakness- Cold, pale, and clammy skin 
– Fast, weak pulse- Nausea or vomiting – Fainting
Treatment for Heat Exhaustion – Move to cooler location 
– Lie down and loosen clothing- Apply cool, wet cloths to body
– Sip water- If you keep vomiting, seek medical attention 
Heat Stroke – High body temperature (above 103°) 
– Hot, red, dry, or moist skin 
– Rapid strong pulse 
– Possible unconsciousness 
Treatment for Heat Stroke
– Call 911 immediately
– Move person to cool place- Reduce body temperature with cool cloth or bath
– Do not give fluids
Use common sense to avoid overheating. Limit activities during the hottest time of day. Wear loose fitting clothing. Use sunscreen. Hydrate before and during activity. Do not ignore the early signs like muscle cramping. Our Turn members are cool. We want them to stay that way!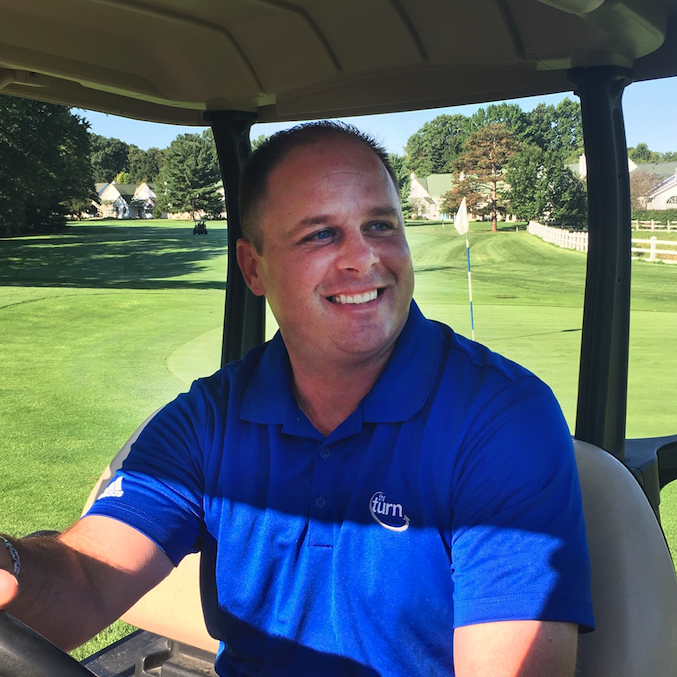 Be Your Best Through Competition
 This week during the golf portion of the Turn clinic we will be having a golf social. If you have attended a golf social in the past, you already know how fun they can be. If you have never attended a golf social in the past, you are in for a great time. The purpose of our golf socials are two-fold. 
First, they give us an opportunity to socialize and interact with other Turn members in a casual, fun and exciting environment. This is a great way to make new friends and improve your social skills. The other purpose of our golf socials is to put you in a position to compete. Competition is very healthy, particularly in golf. Whenever you have an opportunity to compete in any way. It can help you to bring out the best in yourself. 
Being in a competition forces you to put some pressure on yourself. Practicing under this pressure will better help you to deal with pressure situations later on down the road. Even if you are playing golf by yourself, you will inevitably find yourself feeling some pressure at some point. Practicing being a competitor during our golf socials will help you to prepare for these moments and to achieve success. Combine that with your improved social skills and a few new friends and you probably won't find yourself playing golf by yourself very often. 
We can't wait to see you compete next week!
Have any exciting news to share with The Turn community? Email Erin at ecraig@jointheturn.org and we'll get it in next week's newsletter!
Like us on Facebook at facebook.com/jointheturn